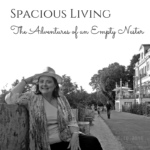 Welcome to #write31days in October. As the seasons are changing and fall ushers in cool weather and beautiful leaves, I am going to write about the new adventures I am finding in this "empty nest" season of my life.
I loved my time raising our four children and when I suddenly found myself with empty bedrooms and way too much time on my hands, I did not dance for joy. I cried. I felt the loss deeply.
Three years have passed since the last child left home and I'm not feeling the emptiness as much—instead, spaciousness would best describe my season. I'm finding adventures beyond my wildest imagination.
So, join me as I share some of the fun, fulfillment and new focus I've found in my new season of life.
Day #1 Introduction
Day #2 From Empty to Spacious
Day #3 Some Dance, Some Weep
Day #4 Taking Stock
Day #5 Anecdote for the Blues
Day #6 Tutoring
Day #7 What's a Docent?
Day #8 No More Sorrow, No More Tears
Day #9 My Husband, a Stranger
Day #10 Moving to the Desert
Day #11 Desert Garden
Day #12 Desert Skies
Day #13 Surprise Discovery
Day #14 What Makes a Good Painting?
Day #15 What Can You Do with Art?
Day #16
Day #17 Grandchildren
Day #18 Long Distance Grandparenting
Day #19 Impossible Challenge
Day #20 Getting Fit
Day #21 Traveling Light
Day #22 What is a Hostel?
Day #23 Travel Fears
Day #24 Loos, Toilets and Bidets, Oh My!
Day #25 Traveling by Eurail
Day #26 Standing Where Martyrs Stood
Day #27
Day #28 How Old is Old?
Day #29 Limits
Day #30 Art Exhibit
Day #31 More Adventures Ahead