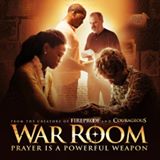 War Room is out in local theaters this weekend. The story chronicles two marriages that held choices that could lead each couple to success or destruction. Throughout the tale, God's golden cord of redemption ties the events together challenging viewers not to settle for lukewarm spiritual lives.
My husband and I attended with a group from our church. We found it to  be an inspiring story with just the right amount of engaging humor. The acting was great and included Priscilla Shirer and Beth Moore who are two of my favorite ladies' Bible Study leaders.
Priscilla Shirer has written a companion book, Fervent, a Woman's Battle Plan for Serious, Specific, and Strategic Prayer. It is on my coffee table and I can't wait to learn more about the weapons of prayer. An additional companion book, The Battle Plan for Prayer: From Basic Training to Targeted Strategies, by Alex and Stephen Kendrick is available, as well.